ConBravo 2019: 10th Anniversary Event from Friday July 16 to Sunday July 18, 2019 in Hamilton, Ontario at the Hamilton Convention Centre and Sheraton Hotel
https://2019.conbravo.com/
As before I'll simply categorize the events into different paragraphs for those I helped at, and those I simply came for as a fan, especially this year with my ongoing health concerns and issues changing since last year that it limited a lot more that I could do from heavy lifting to the still injured broken arm and the diseased liver I've been dealing with for almost 2 years now. Doing this convention is now also an added part of therapy to attend instead of weekly being stuck in a hospital either nearby or now even in Toronto afar for many tests, appointments and more, sometimes more than 1 in a day or in several back to back days/weeks. But enough about that to the post convention report!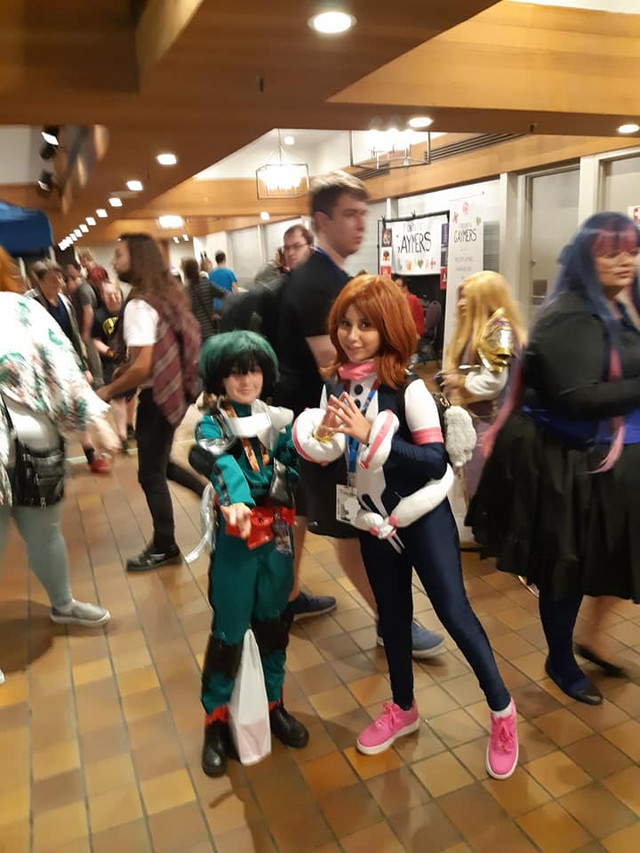 D20 LIVE
My main contribution while with everyone being able to enjoy the events they did, this year Saturday night they did the RPG in the main stage then Sunday the Q & A with a quick fan run RPG just before closing ceremonies. This year's theme was Avatar the Last Airbender set in the show's way long ago past with special guests reviewers Arkada of Glass Reflection
https://www.youtube.com/user/GRArkada
, Linkara of Atop the Fourth Wall
https://www.youtube.com/user/reuisu
and newcomers musician Family Jules
https://www.youtube.com/user/FamilyJules7X
and video gamer for fighting games and more Woolie
https://www.youtube.com/channel/UCyO...GihKpTO3-zyhYg
It was a smashing hit!
I did a few videos I'll sprinkle in here from both D20 Live events. They're mostly of that growing line up I've done for events I'm involved with over the years, and all I'll say is I'll quote/paraphrase a marvellous savant: I HATE STAIRS!
https://www.youtube.com/watch?v=bOxSXBReaR4
AND
https://www.youtube.com/watch?v=zs_7ZXL96DM
AND
https://www.youtube.com/watch?v=sDNICfM77LE
Also here is a speech by the host DM Big Mike.
https://www.youtube.com/watch?v=wi7o8JWvaQA
If you happened to have missed the show or couldn't travel to be there live, do not fret it, D20 Live has the properly edited version up now See it for the first time in full or watch it again even if you went or saw the live stream of the show!
https://www.youtube.com/watch?v=9x2Saovvq7w
Also check out their Patreon site to donate towards their improvement of equipment for future livestreams!
The 404s Improv Comedy
While I couldn't participate this year as my health issues kept me from it I did go to 2 of the shows they did with the Friday night not-so-late show and the Saturday Morning show. I couldn't make their other 2 events a workshop and their GoodFiascOmens show due to scheduling conflicts but of what I saw it was hilarious to see as a fan with some fellow retired members as well.
Once more for videos, I had 1 short one for the not-so-late show line-up that I could film at the time:
https://www.youtube.com/watch?v=hxOp96UUqDk
ConBravo posted their Main Stage shows online and that happened to be the two 404s shows among them here for you to see in case you couldn't make it or want to see the shows again while sharing them with your friends and family! Don't fret they kept the shows as PG-13 as possible for both of these shows.
https://www.youtube.com/watch?v=i83CJUB0dAo
and
https://www.youtube.com/watch?v=zWEnPzx4CxU
I also got myself a nice lapel pin with proceeds of all their merchandise going towards the costs of future trips to other events and conventions!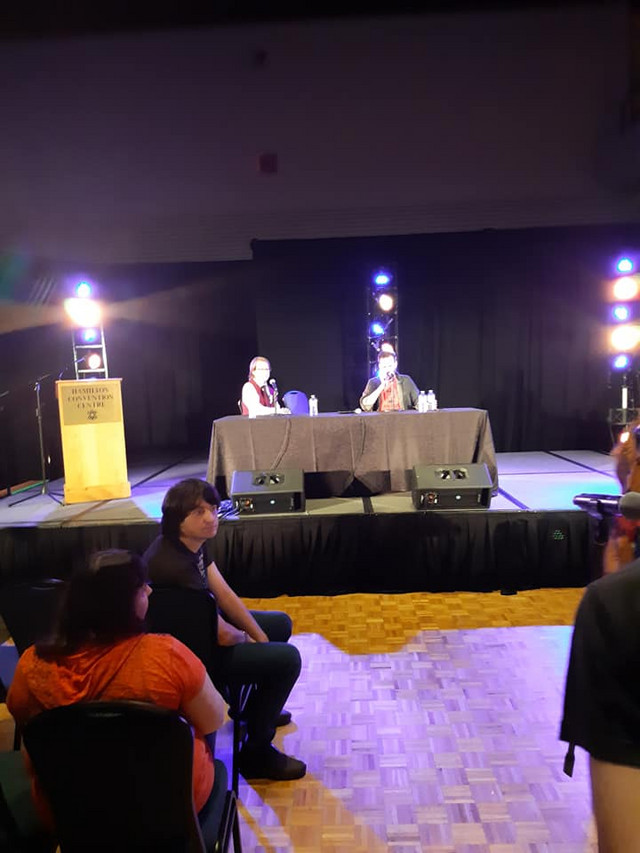 OTHER EVENTS I ATTENDED ON THE WEEKEND – The Desktop app for Attendify, Source found at
https://2019.conbravo.com/programming/2019-schedule/
I'll go over what else I did that was an event or big area.
IN GENERAL
Dealers' Room and Artists Alley
It was the same location and I also talked to some staff I know nearby on my free time. I'll talk more one what I got later on.
Opening and Closing Ceremonies
Not much to note as I didn't stay long for either event with other things going on but it was to see the guests both times and the opening speech given by Calluna this year for the anniversary of the convention. Both of these ceremonies can be seen in their full versions right now on ConBravo's channel at
https://www.youtube.com/user/ConBravoTV
Cosplay for a Cure Photography Area (Also online @skyleafcreation on Twitter)
I couldn't cosplay this year so I donated money and got some cosplay business cards in return which is nice. Even if my health case is different from a cancer patient, I still got even more of a view of the situation of going to hospital constantly in hopes to finding a cure, a solution and peace with one's self so those doing charity events to directly help these cases got my respect.
Super 1 Up Free Gaming Weekend in store
https://super1upgames.com/
After a nice lunch at Ajio Sushi (
www.ajiosushikorea.com
), I did go visit them as I do gaming trades and purchases at their location. It's easier these days to simply have attendees walk to their store which is about 15-20 minutes from the venue if they got the patience, time and energy to do so than the store shifting the arcade machines on location and not having enough space or places to do it without disturbing panels nearby. I got despite my broken arm a go at playing a bit of Street Fighter Alpha 3, pinball, California Cruisin', TMNT: Turtles in Time, The Die Hard Video Game, Galaga, Street Fighter 4 and even a bit of DDR. They sell also games from all sorts of systems old and new and sometimes the video gaming systems themselves as well as periphery for it.
Games Room-Transformers TCG Demo
I met a mutual friend at a dinner and the next day I got a demo of the game owned by Hasbro and Wizards of the Coast. It was right up my alley of playing current CCGs like Magic the Gathering, Pokémon and Yu-Gi-Oh and past ones like Gundam War and WWE Raw Deal. I was given some promo cards, character cards and basic cards to get started and later on at the end of the month I was able to also pick up from Conspiracy Comics at
https://conspiracycomics.com/
the starter set. I hope to get a deck going soon as I was working towards this report during some busy and trying times on my end the last month since the convention, so once more thank you for your patience on the release of this.
FRIDAY
HPW Q & A (hamiltonprowrestling@gmail.com )
The panel was a bit of a mix of people in character playing the kayfabe up when answering questions or interacting with each other with a show coming up, to honest personal answers to everything from the company they'd want to someday work for to talent they've yet to work with or want to work with again. Friends Rip Impact and Mike Forte were especially fun to hear on the panel. After the panel I bought from them their T-Shirt and from my friend Mike Forte his new tuque.
UpCycling for Cosplay with guests AngelicLuka and ShadowStorm Cosplay
This was an environmental topic but also one where one of my friends Luka help host on how to save on using items over and over again that are environmentally friendly as well, a very useful thing for adults, kids and even one's pets to really help up with the cosplay experience!
SATURDAY
Reviewer Q & A
Many were on this panel of various topics and interests of reviewers. I'm a former reporter for my university newspaper so that's where I come from on the topic and asked things in that frame of mind. It included some guests I've gotten to know like Linkara, from last year's D20 Live Calluna
https://www.youtube.com/channel/UC2e...976z9JBVEHSbEA
, Nash Bozard who has also done D20 a few times
https://www.youtube.com/user/nash076
and local friend Tom 'heisanevilgenius' White.
Ian Sinclair Q & A moderated by guest Arkada
I arrived a bit late due to walking from venue to venue but once I made it to the line to ask questions in the Main Stage Room, the stuff ranged from the normal anime/video game fare actors are involved with in projects to interests like Magic the Gathering and what I got into, food shows and foodie questions. You can see the full panel with moderator and busy guest Arkada who handled the back and forth very well with Ian, with the asking of questions both regular and quirky at the ConBravo YouTube channel at
https://www.youtube.com/watch?v=UktH7RhxCbg
and at my channel at
https://www.youtube.com/watch?v=v_3t5Y0-sUg
I filmed my walk to the location.
SUNDAY
2019 Anime Discussion with guest reviewer Arkada
Along with a local staff/reviewer, Arkada lead the panel in the 2019 season look at anime with comments from fans and himself alike. It moved along quickly but the season was mainly covered from the Summer to Winter that's come so far and what's been a hit (The Promised Neverland, Dr. Stone, That Time I got Reincarnated as a Slime, Mob Psycho 100, and Fire Force to name a few) to those that didn't pan out too well or to mixed results (One Punch Man, The Rising of the Shield Hero and Do You Love Your Mom and her Two-Hit Multi-Targets Attacks?) that an hour flew by but still fit in questions about the future of anime in streaming to jokes who is the best Quintet sister from The Quintessential Quintets.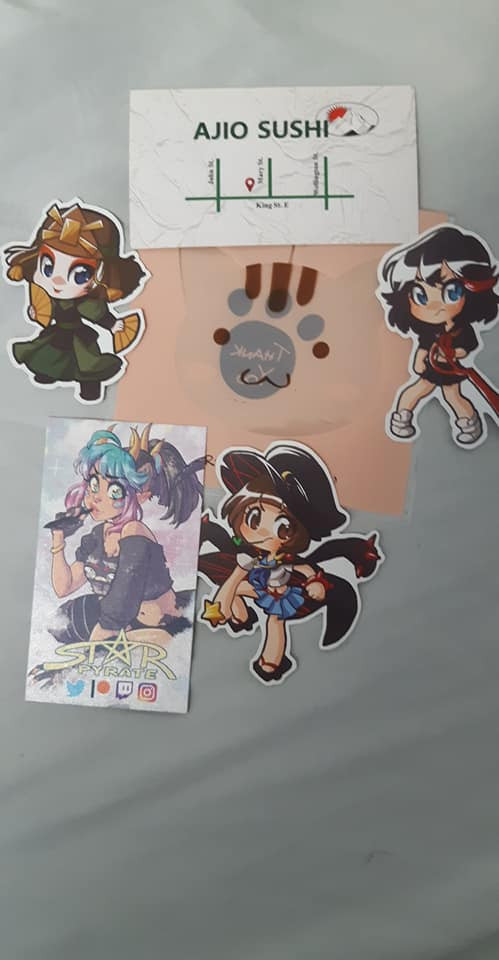 MY SWAG HAUL FROM ALL 3 DAYS
From the Artist Alley end I got a special pillow from Kitties with Kapes who got a website at
www.kittieswithkapes.ca
while Star Pyrate had some cute stickers I got of Suki from Avatar the Last Airbender and from Kill La Kill besties Mako and Ryuko whom you can follow at
www.youtube.com/starexorcist
From the Dealer's Room, I got from my Friends at Chop Shop Goods at
https://www.chopshopgoods.com/
a special deal on T-Shirts that could fit me during my health issues with 5 for NBA Jam, My Hero Academia, Run Dungeons & Dragons, One Punch Man and Kiki's Delivery Service. Finally from @roanycollectibles from Kitchener I got myself a second Pokémon keychain plushie to go with last year's Mew in a Wailord one, and they threw in some stickers for Kabuto, Alakazam and Gyarados too.
As always, I collect all videos of the Eastside 404s shows that can be found on the current ongoing Video Play Set at
https://www.youtube.com/playlist?lis...aTYziAt6quFRQh
on my YouTube channel at
https://www.youtube.com/user/trigunkwan
The latest events for The 404s can be found as well at the main website at
http://the404s.com/
as well as their social media outlets like their YouTube Channel at
https://www.youtube.com/user/the404s
Check out this semi-regularly updated public photo album of my convention photos (the newest photos are at the end pages of the album) at:
http://www.crunchyroll.com/showphotoalbum?id=10061028
And I'm now also a live stream moderator on YouTube for D20 Live! Make sure to check out past live streams and more at
https://www.youtube.com/user/D20Live
and watch streams there or at
https://www.twitch.tv/d20live
when they come out on some Sundays each month with RPG streams, video gaming and craft streams as well. Also check social media for other ways to keep up with the crew like Twitter.
Thanks for reading and enjoying this post convention report!